Finnish health technology company Koite Health expands to Sweden, signs Lumoral® partnership with Aqua Dental dental chain
Finnish health technology company Koite Health Oy has signed a cooperation agreement with Swedish dental chain Aqua Dental Ab. The partnership will enable around twenty Aqua Dental clinics across Stockholm and Gothenburg to offer Lumoral, the latest technology on the market for improved oral health self-care, to their patients. 
HELSINKI, Finland (October 19, 2022) Finnish health technology company Koite Health Oy has signed a cooperation agreement with Swedish dental chain Aqua Dental AB. The collaboration will enable some 20 Aqua Dental clinics in Stockholm and Gothenburg to offer Lumoral, the latest technology on the market for enhanced self-care in dentistry.
Thorough dental care is the foundation for preventing and treating gum diseases like periodontitis. Effective mechanical brushing and flossing are often not enough. 
Treatment with Lumoral improves dental care, especially when traditional self-care is not enough or when an oral disease requires more drastic measures than just brushing and cleaning.
Lumoral is changing the future of dental care at home.
Research shows that Lumoral's antibacterial aPDT phototherapy effectively eliminates harmful bacteria in the mouth while treating advanced gum disease. Similar light-activated antibacterial treatments have been used in dental clinics, for example. However, the problem has been the cost and frequency of these treatments to provide sufficient efficacy. 
– Lumoral has shown promising results at the clinical and molecular level, says Nilminie Rathnayake, Specialist Dentist Periodontist and Education Manager at Aqua Dental. According to Rathnayake, patients in the Aqua Dental chain have always wished they could improve their daily dental care.
– The fact that we can recommend Lumoral as an addition to daily self-care is promising, as research results show good results after a Lumoral treatment.
The new collaboration will enable the Swedish dental chain to improve patients' oral health and satisfaction, as patients will be able to take control of their oral health by including Lumoral in their daily self-care routine at home.
– I believe that this addition to daily oral hygiene will help patients suffering from periodontitis and peri-implantitis. The Aqua Dental chain strives to provide its patients with the best possible modern treatment for oral diseases. We believe cooperation with Koite Health is another way to provide our patients with the best care. 
A differentiating factor for partner clinics 
According to Sakari Nikinmaa, Koite Health's CEO, the partnership agreement's benefits are mutual.
– By working together, we can improve the quality of care and provide patients with the best possible treatment experience and outcomes. Aqua Dental offers a first-class patient experience and level of care, perfectly combined with Lumoral's unique features and efficiency," says Nikinmaa.
According to Nikinmaa, the collaboration will be reflected in joint marketing campaigns in Sweden this autumn to increase the visibility of Lumoral treatment and awareness of its availability in Aqua Dental's clinics.
– Our staff will also actively educate clinic staff on the latest research results to know the newest technology and have the best knowledge to treat patients.
Niklas Virta, CEO of Aqua Dental, says the new partnership proves that Aqua Dental is always striving to improve dental care and be at the forefront of new treatment methods.
– With Lumoral, we hope to help patients with various oral diseases in a modern and effective way. Research and development are close to our hearts, and this will be a way to influence and prevent an inflammatory process, in line with our vision of contributing to better oral and general health, says Niklas.
– We at Aqua Dental are looking forward to the collaboration.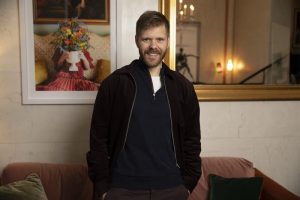 Niklas Virta, CEO of Aqua Dental
Helén Huttunen, Product Manager at Koite Health's Stockholm office, is pleased with the new partnership as it is another step towards much needed improvement in dental health in Sweden.
– Many people suffer daily from some form of bacterial infection in their mouths and poor oral health. To succeed in oral health care, we need to change our habits and get better tools. The link between oral health and heart problems or diabetes has serious consequences. That is why daily oral health is so important. Going to the dentist for annual check-ups is also very necessary, says Huttunen. 
According to Huttunen, the oral health situation in Sweden is challenging. The same is true in other Nordic countries, where waiting lists for dental services are long and public oral health resources are scarce.
– In northern Sweden, some patients must wait up to six years for treatment. If patients knew about Lumoral, they could treat themselves at home while waiting to see their dentist. In this way, they can reduce the risk of infection and caries and prevent tooth loss. I hope that all dentists will soon know about Lumoral. 
Huttunen points out that the ageing population also brings its own challenges in maintaining oral health.
– Dental implants and other dentures place high demands on the patient's own ability to keep their teeth clean, and this becomes more challenging with ageing. Eating and smiling are basic requirements for life! Lumoral brings great help to many people.