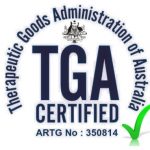 Lumoral has been approved by the Australian Therapeutic Goods Administration
The Therapeutic Goods Administration (TGA) at Australia' Department of Health is Australia's regulatory authority. It assesses the performance, safety, quality and efficacy of all medical devices that are sold in Australia.
Lumoral has been reviewed by the TGA. They have now assessed that Lumoral complies with their high standards, approved it and it is now included in the current Australian Register of Therapeutic Goods (ARTG).
The Australian public should feel confident in the safety and quality of approved medical devices in Australia, as their regulatory requirements for medical devices are amongst the most stringent in the world. Medical devices in Australia are not only subject to strict approval assessments but are also monitored closely after they have been approved for supply and included in the ARTG.